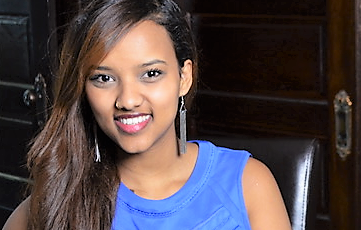 Meet new graduate Semhar Berhe and hear about her journey in ALES.
By Katie Willis
Today, the University of Alberta is celebrating the graduating class of Fall 2021 with a virtual convocation ceremony. As we acknowledge the achievements of our graduating class, we're sharing just a few of the amazing stories of our graduates.
Meet Semhar Berhe, a member of the class of Fall 2021 who is graduating with her master's degree in Human Ecology from the Faculty of Agricultural, Life & Environmental Sciences. Hear from Semhar on connecting with the ALES community and the value of interdisciplinary work.
Congratulations, Semhar!
---
What led you to choose the U of A for your studies?
I was attracted to the interdisciplinary nature of the work being done at the U of A. The groundbreaking work done in ALES was a major selling point and a great indication of both what my time would be like as a student and the possibilities as a graduate!
Tell us about your experience in the Faculty of Agricultural, Life & Environmental Sciences.
I began and finished my time as a student in ALES during COVID; although not ideal, the Faculty of Agricultural, Life & Environmental Sciences was more than accommodating and gave room for robust discourse and knowledge sharing. It wasn't perfect, but it was so worth it. The staff did not let technology get in the way of meaningful dialogue and, if anything, they used it to their advantage. I am thoroughly impressed with the faculty and my classmates given all the barriers and uncertainties of the past year.
What is one of your favourite memories from your time at the U of A?
It's cliché, but meeting individuals from different backgrounds and life experiences. This degree and the discussions I have had with professors and colleagues has provided me with more insight into empathy and making the connections between experiences and daily life.
What advice do you have for current and prospective students?
Allow your curiosity to guide your work.
How do you plan on celebrating convocation?
Safely, with family and friends who have supported me throughout. And a LOT of food!
What's next for you after graduation?
I am currently working in global policy, but I am definitely wanting to do more travelling! I need to make up for the past two years.