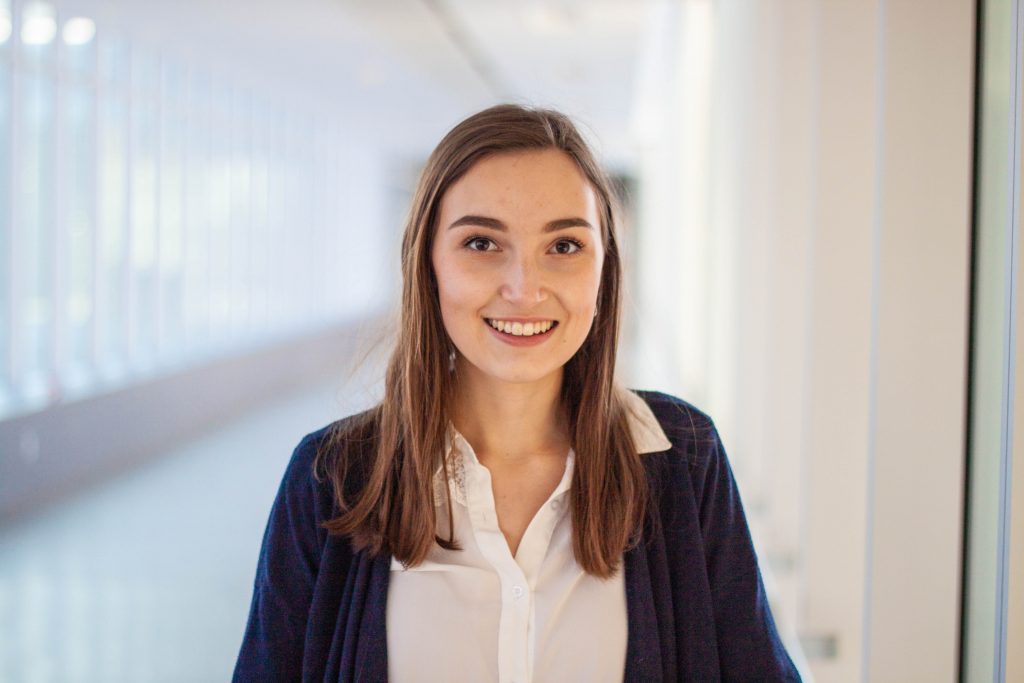 For Stephanie McKenzie, it wasn't until the second year of her undergraduate studies that she knew where she wanted her path to lead. Changing programs in her second year has brought her to the bachelor of science program, majoring in agricultural business management in the Faculty of Agricultural, Life & Environmental Sciences.
Students in the agricultural business management program have the chance to take courses through both ALES and the Alberta School of Business. And best of all, students have the opportunity to integrate work experience into their undergraduate studies through the ALES Internship Program or the School of Business Co-op Program.
Meet Stephanie McKenzie and hear about her experience at the University of Alberta.
What brought you to the University of Alberta
I'm originally from Calgary but I wanted to move out of my hometown. Edmonton was a good compromise as it wasn't too far from home but far enough that I could be independent. I had originally intended on attending the University of Saskatchewan but when I attended the U of A Open House, the Faculty of ALES completely captured my imagination and I knew I had to apply.
Why did you choose this area of study?
I actually ended up switching my program in my second year, which wasn't something I intended when starting university. I studied for a year and a half in animal health sciences, but after many summers working in the industry I decided that it wasn't for me.
In my first year of university I was living on campus and was missing my pets badly, so I started collecting a bunch of plants and definitely became a "plant mom." I also started to get involved in governance at the U of A, and learned a lot about financial planning by volunteering for my condo association. I put the two interests together and decided to study agriculture business management.
Additionally, the freedom my degree allows for choosing electives was the cherry on top, and I liked that the combined degree would allow for me to branch out into different career paths should I want to in the future.
Tell us about one of our favourite memories from your university experience.
I lived in Lister Hall my first year. That experience stands out as one of the most transformative years of my life. I made so many friends there and got out of my comfort zone. For the annual Henday Hall tower competition, I was tasked with creating a three course meal centred around the key ingredient—pickles! It was really fun and challenging to cook with my friends and floor-mates in a Lister kitchen, but we were successful and made some very tasty food. We ended up getting second place for the challenge.
What is one piece of advice you would offer to a new student?
Don't worry so much about what exactly your future is going to look like!
If you told me when I started university that I would be in the place I am now, I probably wouldn't believe you. My interests have changed so much since starting at the U of A, and the learning process (both in and outside the classroom) has changed who I am as a person and how I see the world. In hindsight, I could have saved myself a lot of stress in my first year by worrying less about where my life was going and where I would end up.
What does the future hold for you? What are your long-term goals and aspirations?
Being a student really expands your understanding of the world and as such I am still trying to figure out my place in it. For now I'm working towards graduation, as much as I love school I am ready to experience life outside a classroom and have a change of pace. Eventually, I think I'd like to start my own business.