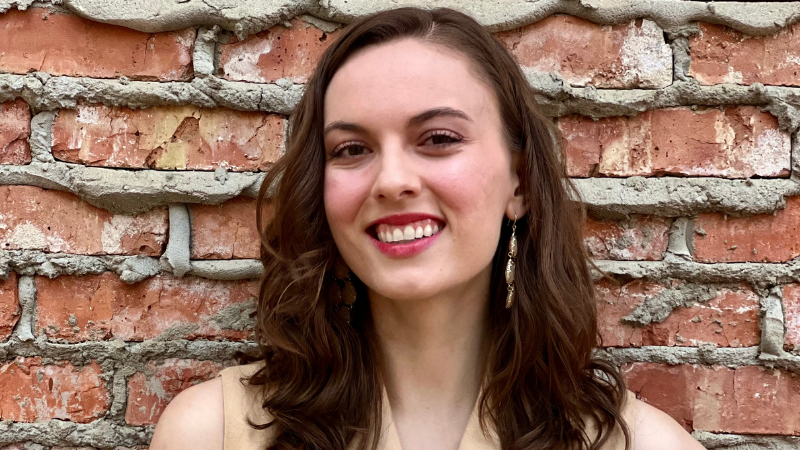 For PhD candidate Anissa Armet, studying nutrition and food science is an opportunity to improve the world around her. A graduate student in the University of Alberta's Department of Agricultural, Food & Nutritional Science, Armet is a 2021 recipient of the Izaak Walton Killam Memorial Scholarship.
During her undergraduate studies in the Nutrition and Food Sciences Program, Armet completed a dietetic internship and became a registered dietitian. Now a third-year PhD candidate, Armet also volunteers in the community with Meals on Wheels and shares her own plant-based recipes through her Instagram account.
"I want to take this as an opportunity to thank the Faculty of Agricultural, Life & Environmental Sciences (ALES) for how it has supported me over the past eight years as both an undergraduate and graduate student," said Armet.
"I was extremely fortunate to be the recipient of several faculty awards and scholarships, and had the opportunity to participate in numerous volunteering opportunities that truly enriched my academic experience. Without this unwavering support from ALES, I would not be a Killam Scholarship recipient."
Join us in congratulating Armet on receiving this prestigious award, and learn more about her work.
Tell us about receiving a Killam Scholarship.
Receiving the Izaak Walton Killam Memorial Scholarship has been the highest honour of my academic career, as it is considered the most prestigious scholarship awarded to graduate students by the University of Alberta. This scholarship provides substantial financial support that will allow me to pursue unique training opportunities and will ensure my research projects are elevated to their utmost potential. For me, this incredible honour comes with a certain sense of duty to conduct high-impact research that will have positive implications for human health.
Being awarded the Killam Scholarship was recognition of my past accomplishments and, more importantly, is my current motivation for my future academic and non-academic endeavours.
What is the focus of your research?
My research focuses on how diet influences human health via its effects on the gut microbiome—which is the community of bacteria and other microbes that live in the gastrointestinal tract. Each one of us has a unique gut microbiome that may influence how we respond differently to dietary interventions. This means that the ability of gut microbes to break down nutrients, such as dietary fibre, into metabolites that benefit health differs among people.
The objective of one of my PhD projects is to determine if dietary fibre supplements can reduce inflammation and improve other metabolic markers in individuals with excess body weight, and whether these effects can be predicted by participants' baseline gut microbiome features. If we can successfully predict who would benefit from a specific dietary fibre supplement based on their gut microbiome, this novel strategy could eventually be used as a non-invasive, personalized treatment or preventative measure for obesity and related chronic diseases. The overall goal of my PhD research is to advance understanding of how the gut microbiome can be used in precision nutrition strategies to prevent or manage chronic diseases.
What makes the University of Alberta's Faculty of Agricultural, Life & Environmental Sciences the ideal place to do this work?
My research is supervised by faculty members Jens Walter (adjunct faculty), Carla Prado, and Catherine Field, who are world-renowned scientists in the gut microbiome, nutrition, and immunology research fields. We also collaborate with leading experts in machine learning such as Russ Greiner in the Faculty of Science and Dan Knights at the University of Minnesota. This type of interdisciplinary research team is necessary to answer important questions regarding interactions between diet and the gut microbiome, and how this relationship influences human health. I am extremely grateful for my supervisors' mentorship, and feel privileged to be privy to their expertise in their respective research fields.
Our faculty is also home to the Human Nutrition Research Unit, which is a world-leading nutrition research centre that provides the essential tools and services for us to conduct our human dietary intervention trials successfully. For example, we have access to a research kitchen to produce highly standardized diets, a blood processing laboratory, and body composition assessment tools that allow us to conduct comprehensive analyses relevant to our research.
Finally, I am looking forward to publishing my research results as ALES values connecting its members with industry and government contacts, alumni, and donors in order to promote knowledge translation.