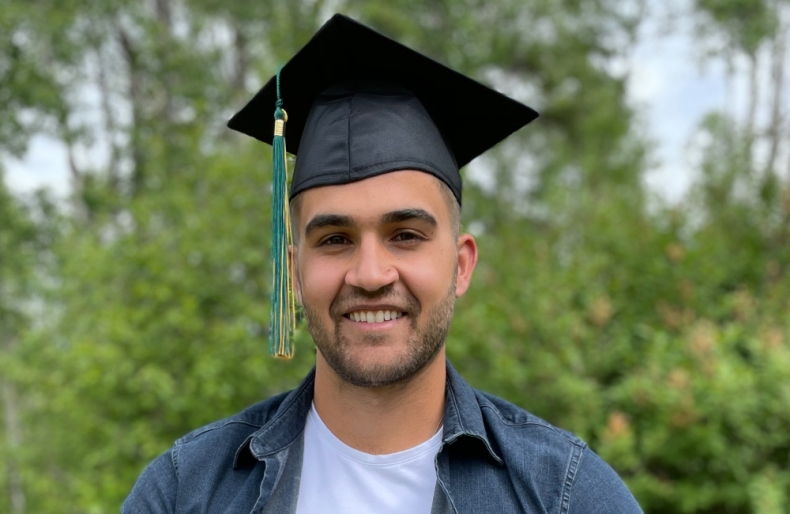 The University of Alberta is celebrating this year's graduates with a virtual convocation ceremony on June 25. As we celebrate the achievements of our graduating class, we're sharing just a few of the amazing stories of our new alumni.
Etienne de Jongh is one such student, graduating with a BSc in animal health and certificate in sustainability. Hear from him on how his academic career has turned a passion for agriculture into varied career opportunities, the importance of building connections on campus, and his advice for incoming students.
Congratulations Etienne!
---
What brought you to the U of A?
My family history as farmers in South Africa and my adolescent upbringing in a small rural town raising small animals inspired my passion for agriculture. My fascination drove me to promote self-sufficiency initiatives around my community and volunteer at local ranches and veterinary clinics, where I quickly decided I wanted to work with animals for the rest of my life.
Needless to say, with the diverse agricultural programs, multiple rural volunteering opportunities, and concentration on sustainability here at the U of A, my enrollment in ALES was inevitable. The U of A has provided numerous opportunities to satiate my interest, which I have tried to capitalize on to the best of my ability.
Tell us about your experience in ALES.
These past few years I have been blessed with the opportunity to many things, including: conduct research on childhood passions; present at international conferences, raise thousands of dollars for charity through the Agriculture Club and FarmHouse fraternity; connect with local producers on yak, poultry, dairy, and beef farms; shadow with field experts; make connections with leaders in the industry and academia; and discover a dizzying array of potential future careers. As a consequence, my experiences at the U of A have not only inspired me to pursue my childhood passions professionally, but taught me how to find success along the way.
What is one of your favourite memories from your time at the U of A?
I have been blessed with so many incredible memories from my undergraduate career at the U of A. Many, if not most, of these memories stem from my involvement in clubs—most notably the U of A Agriculture Club. The Agriculture Club has provided me with opportunities to network within the Alberta agriculture industry, take part in various philanthropic events, and even help organize Bar None, one of the largest and longest-running student-led events at the U of A.
However, I think my favourite memory with the Agriculture Club was our glorious (albeit brief) championship run in inner tube water polo. The club had teamed up with the Forest Society, and together, we were unstoppable. We had just clutched a spot in the playoffs before our season was cut short by a certain virus. The friendships and memories I took from this historic (to us, at least) season will stay with me for the rest of my life.
What advice do you have for current and future students in the Faculty of ALES?
If I could offer one piece of advice to a new student, it would be to talk to your professors, especially once classes return in-person. I know this sounds cliché, but my journey in research would never have begun if I did not approach one of my second-year professors after class. This one relationship has completely changed my undergraduate journey, and even changed my career plan. Having a supervisor that takes a real interest in your undergraduate journey can be one of the biggest factors of success, both during school and after. Just be honest about your passions and aspirations; you never know where you could fit into a project.
How have you spent your free time during the COVID-19 pandemic?
COVID-19 has challenged everyone differently, and I feel incredibly privileged to have been able to use this time productively. Forced downtime allowed me to take my studies to the next level, even providing the opportunity for me to graduate without a single A- on my transcript. The pandemic has also allowed me to explore areas of my future career that I had never been able to before. I became much more heavily involved in research, and was able to co-author my first paper on climate change and public health. Through this experience I was able to discover new career paths, such as combining public health research and veterinary medicine. In essence, COVID-19 distancing has allowed me to reach lifelong academic goals, and seeded new aspirations for the future. For that, I feel incredibly blessed.
How do you plan on celebrating convocation?
With COVID-19 still looming, celebrations have been, and unfortunately continue to be, fairly limited. However, I have managed to sneak a few sweet camping spots in Alberta's national parks this year. I have always been an avid enthusiast of the outdoors, so I hope to celebrate by getting out and enjoying the beautiful landscape outside the city.
What's next after graduation?
I've been incredibly blessed to have been accepted at both the U of A School of Public Health for a master's degree as well as at the University of Calgary doctor of veterinary medicine program. While I'm still figuring out the timelines between the two, I would love to one day combine both as a public health veterinarian.