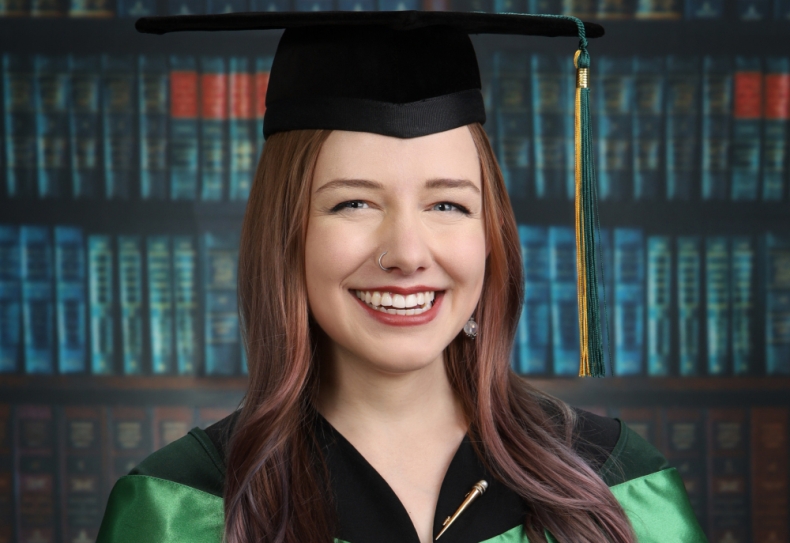 The University of Alberta is celebrating this year's graduates with a virtual convocation ceremony on June 25. As we celebrate the achievements of our graduating class, we're sharing just a few of the amazing stories of our new alumni.
Meet Arizona Lowe, graduating with a BSc environmental and conservation sciences in environmental economics and policy, and hear from her on the importance of environmental conservation and finding your own path.
Congratulations Arizona!
---
What brought you to the U of A?
I was drawn to U of A by the opportunity to study environmental issues through the lens of economics
Tell us about your experience in ALES.
ALES is a wonderful faculty! It feels very close-knit; there was a large group of us that seemed to have all the same classes and went to field school together.
What is one of your favourite memories from your time at the U of A?
During an ECON 101 lecture in first year, a professor asked us how much we valued the life of a grizzly bear. Students in the lecture put up their hands and offered values ranging from a few hundred dollars to hundreds of thousands. At that moment I was so inspired—this is why environmental economics is so important: how can we put a monetary value on nature? How can we think of beautiful landscapes and the magnificent beings that inhabit them in terms of dollars and cents?
What advice do you have for current and future students in the Faculty of ALES?
Don't get too attached to "the plan" or what you think you should be doing, just enjoy your time and do what makes you happy. Take time to find out who you truly are, and go confidently into the future.
How have you spent your free time during the COVID-19 pandemic?
My year learning from home was wonderful, spending lots of time peacefully painting and creative writing and hanging out with my cat.
How do you plan on celebrating convocation?
I'll be celebrating by FaceTiming with family and friends and having a mini celebration at home with my cat.
What's next after graduation?
While the path ahead may not be clear, I know that wherever I go I'll be trying to make a positive impact on the world.