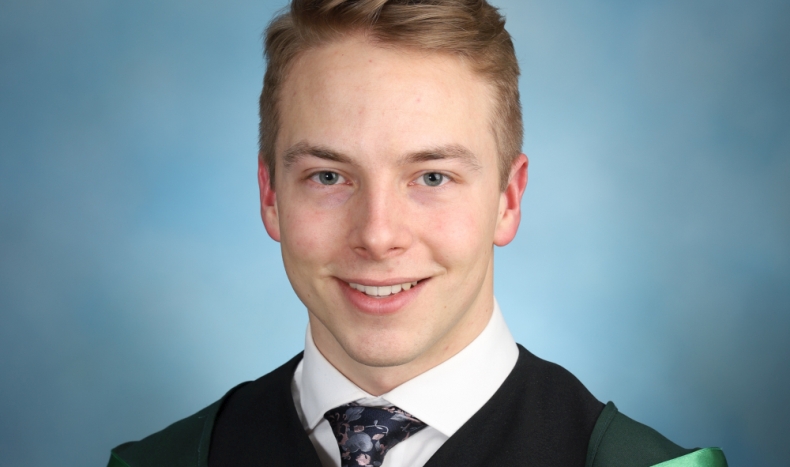 The University of Alberta is celebrating this year's graduates with a virtual convocation ceremony on June 25. As we celebrate the achievements of our graduating class, we're sharing just a few of the amazing stories of our new alumni.
This Friday, Lowell Nelson graduates with a BSc in agriculture, with an animal science major. Hear from him on his experiences in the Faculty of Agricultural, Life & Environmental Sciences (ALES), the importance of connections with fellow students, and what makes ALES a uniquely positive community within the U of A campus.
Congratulations Lowell!
---
What brought you to the U of A?
I wanted to further my education in agriculture, and wanted to get a university degree. The U of A is relatively close to my hometown, and I wanted to experience attending one of the best universities in the country. Not to mention, the U of A has a beautiful campus.
Tell us about your experience in ALES.
ALES has been such a welcoming faculty. It's like a small town inside the university, where professors know most of their students by name, students in all different majors and programs intermingle, and the staff are excited to see you.
What is one of your favourite memories from your time at the U of A?
Most of my favourite memories are all tied with the Aggies and FarmHouse, such as hosting Bar None, making lifelong friends, curling weekend, and Greek exchanges.
I will also always remember my time spent working and helping with Animal Science 101 and 200 projects.
My greatest memory was getting to study abroad in the Netherlands at Wageningen University and Research. I learned so much, made great friends, and visited so many amazing countries.
What advice do you have for current and future students in the Faculty of ALES?
Go out of your way to meet your classmates and professors. There are so many interesting, diverse, and smart people to meet just within ALES. Most of them are friendly and would love to talk or help with an assignment or study together. After all, we're all in this together, going through similar things in life. Join a club—any club. You'll find your people, and enjoy university life 10 times more. Take as many opportunities as you can!
How have you spent your free time during the COVID-19 pandemic?
I spent my time doing a few home workouts, going home to visit my farm (when it was safe), and luckily was living in FarmHouse Fraternity and went through these COVID times with my roommates, who I would call my best friends.
How do you plan on celebrating convocation?
I'll be camping—and will hopefully get to FaceTime my family!
What's next after graduation?
I'm an intern for Cargill on the dairy nutrition sales team for the summer, and afterwards hopefully find a full time job in animal agriculture. When COVID allows, I'll be travelling and backpacking through Europe or Australia.