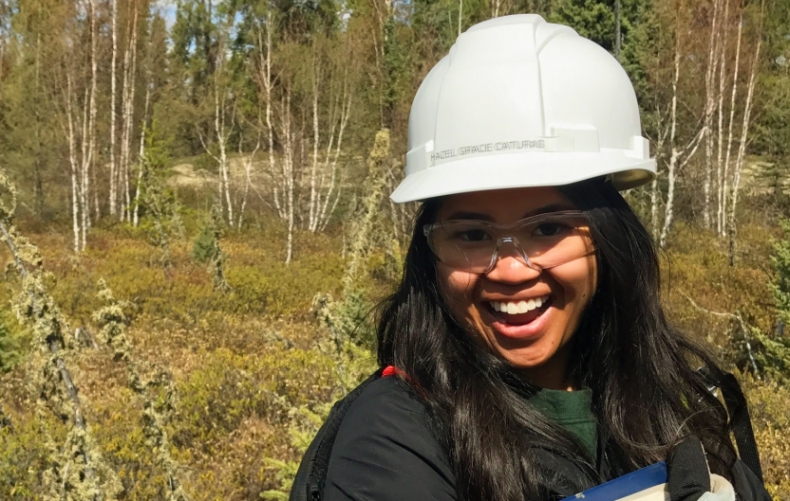 The University of Alberta is celebrating this year's graduates with a virtual convocation ceremony on June 25. As we celebrate the achievements of our graduating class, we're sharing just a few of the amazing stories of our graduates.
Hazel Grace Caturas is one such student, graduating with a BSc in environmental and conservation sciences, specializing in conservation biology. Hear from her on founding important friendships through university, hands-on learning opportunities in the Faculty of Agricultural, Life & Environmental Sciences (ALES), and the importance of getting involved.
Congratulations Hazel!
---
What brought you to the U of A?
I grew up in Edmonton and have always heard about the quality of the programs offered at U of A. It offered a lot of opportunities and programs I was interested in, so it was a natural choice.
Tell us about your experience in ALES.
Being in ALES really helped expand my knowledge about environmental and sustainability issues. I was able to meet a lot of like-minded people, build amazing friendships, and make a lot of important connections. I've learned so much both inside and outside the classroom.
What is one of your favourite memories from your time at the U of A?
I really enjoyed the amount of practical outdoor opportunities available in ALES. I loved field school and all the class field trips, which gave me a lot of hands-on experience working outdoors with amazing friends. All the people I met really enhanced my experience—more than I could have ever imagined.
What advice do you have for current and future students in the Faculty of ALES?
Getting to know your classmates and getting involved with student life, such as through clubs and campus events, gave me a lot of knowledge, experience, and friendships that I would have never otherwise had just sitting in a classroom. Getting involved is one of the best ways to get to know others, and you'll have so much fun doing so!
How have you spent your free time during the COVID-19 pandemic?
I was working virtually for Parks Canada, renovated my entire house, and gave my dog a co-dependency issue.
How do you plan on celebrating convocation?
I went on a really amazing trip to the mountains, and I have a few future backpacking trips planned for the rest of the summer.
What's next after graduation?
I've been lucky to have been offered a job and am able to continue working with Parks Canada. I'm excited to keep growing and learning. I'm definitely looking forward to the summer and I hope to be getting in as much hiking and camping as I can.