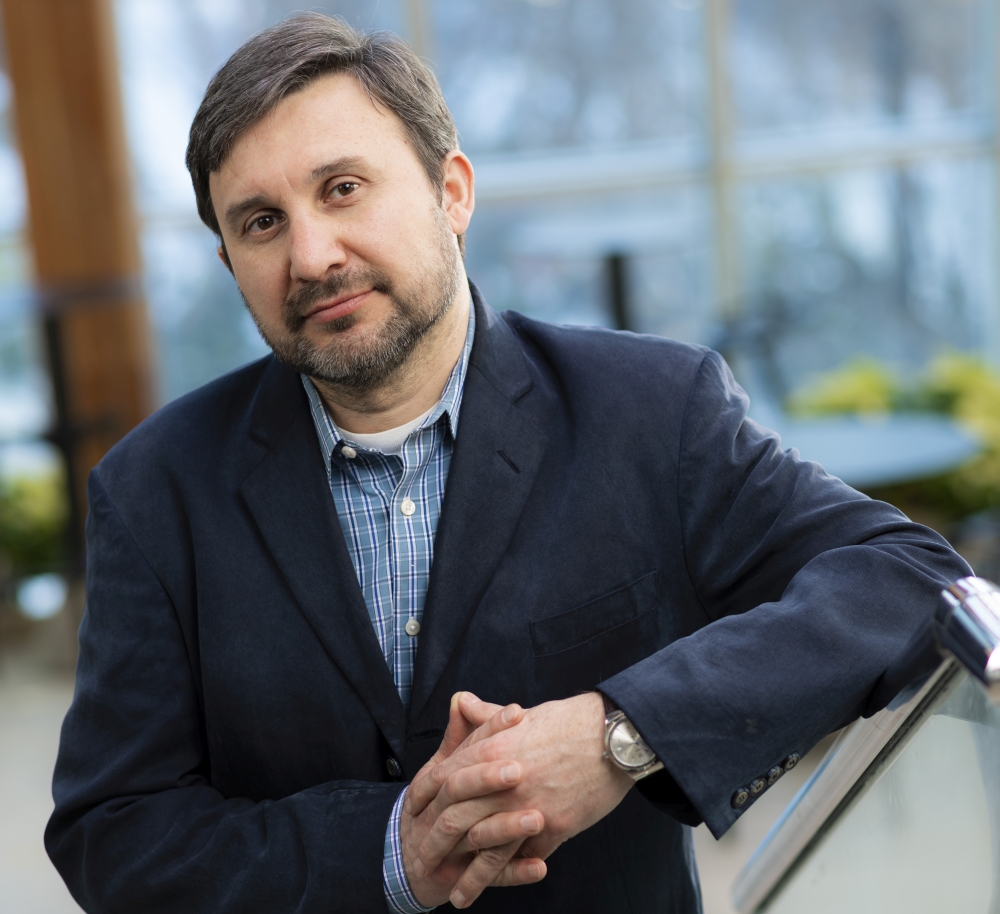 Beginning on July 1, 2021, Nadir Erbilgin will become the chair in the Department of Renewable Resources. Erbilgin has been a faculty member in the department for nearly 15 years and is an expert in chemical ecology and the relationship between insects and our forests. He held a Canada Research Chair in forest entomology from 2007 to 2017 He is the current director of the Field Research Office
Hear from Erbilgin on his vision for the department—and his first memory of the University of Alberta.
---
Tell us about the focus of your research program. 
My research program focuses on the adaptive responses of forest trees to biotic, such as insects and pathogens, and abiotic, such as drought, stressors. Specifically, my group characterizes changes in tree physiological conditions in response to these stressors to determine how such changes may affect forest health. I use the invasion of lodgepole pine and jack pine forests by the mountain pine beetle as my study system.
What is your favourite course to teach?
I currently teach two 400 level courses: Disturbance Ecology (REN R 440) and Forest Health (REN R 470). I genuinely enjoy teaching both courses, and consider both to be my favourite.
What is the biggest strength/opportunity that you see for the department in the next year?
Given the current fiscal challenges amid academic restructuring, innovative ideas will be required for the short term while maintaining a positive long-term outlook for the department. As such, my primary goal will be to help the department build productive connections with other departments within the College of Natural and Applied Sciences. This will allow us to expand our resources and to identify novel and interdisciplinary research questions. 
In addition, I plan to build upon the department's academic strengths, especially its strong ties to the industry and government. Furthermore, I plan to promote our unique programs in environmental sciences, sustainable agriculture, and forestry in order to develop new models for partnership with the industry and government.
What is your first memory at the U of A?
My first memory from the University of Alberta was during my job interview in 2006. During my research and teaching seminar, it was pouring rain outside. Just as I was about to start my presentation, an individual soaked in rain entered the room, and proceeded to sit and watch my presentation as if everything was perfectly normal. This individual turned out to be our former department chair, Vic Lieffers.
What's something that people might be surprised to learn about you?
I find that I work better under pressure, which inspires me to meticulously organize my daily and weekly activities to be more productive. As such, I am confident that I'll be further improving my time management skills as the department chair.
Where is your favourite place on campus?
The University of Alberta has an incredibly beautiful and spacious campus. As such, I have multiple favourite places. When writing or revising manuscripts or grants, I like to go to the Rutherford Library or the quiet study room in SUB. On the other hand, when interacting with colleagues or going for a quick walk, I go to either the Alberta Alumni Walk or the small park around the Tory building. 
If you were enrolling in one course, program or degree right now, what would it be?
I would choose to enroll in a mycology course; I find the biochemical aspect of fungi to be incredibly intriguing. In addition, I would choose an ornithology program and a degree in either marine sciences or astronomy. 
What advice would you give your 18-year-old self?
I would tell my younger self to follow what American baseball legend Yogi Berra said: "It ain't over 'til it's over."  The second advice would be what Alexander Graham Bell said: "When one door closes, another opens; but we often look so long and regretfully upon the closed door that we do not see the one which has opened for us." 
These quotes resonate within me as they have continuously inspired me to strive for further success despite struggles in life. However, what I've learnt is that each struggle brings new opportunities.