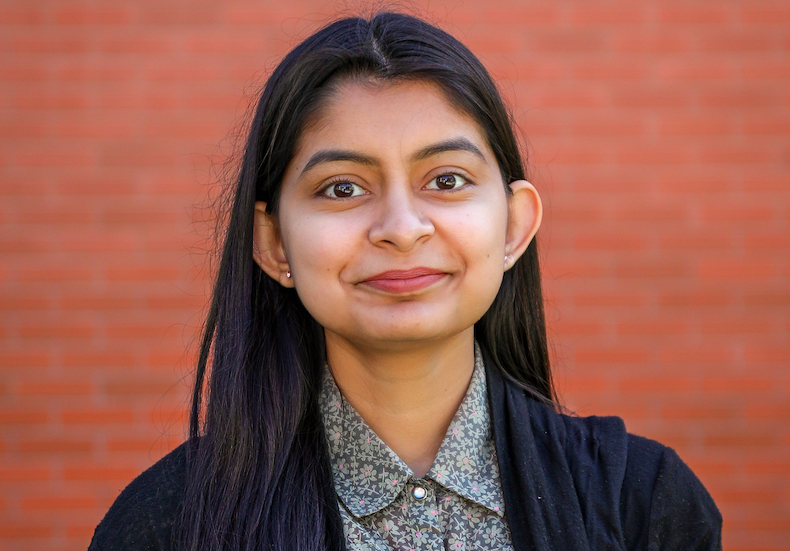 The University of Alberta is celebrating this year's graduates with a virtual convocation ceremony on June 25. As we celebrate the achievements of our graduating class, we're sharing just a few of the amazing stories of our graduates.
Shenin Mehnaj is graduating with a BSc in nutrition and food science with a minor in food policy. She is also graduating with certificates in global citizenship, international learning, and sustainability.
Hear from her on founding important friendships through university, hands-on learning opportunities in Faculty of Agricultural, Life & Environmental Sciences (ALES), and the importance of getting involved.
Congratulations Shenin!
---
What brought you to the U of A?
When I first considered post-secondary education, I was presented with the option to study in prestigious universities in Bangladesh and also abroad. The University of Alberta piqued my interest as I regard myself to be a humanitarian, an activist, and an environmental protectionist.
I suppose this ideology was instilled within me because of my time at school back home. I was privileged to study at St. Francis Xavier's Greenherald International School in Dhaka, as they had offered me many opportunities to broaden my perspective on matters such as climate change and sustainable development.
Tell us about your experience in ALES.
My experience in ALES is a proudly positive one. Through ALES, I got involved on campus and in the community by working and volunteering. I delivered a speech as a student competitor in the Macgregor Smith Public Speaking Competition, and by taking part in ALES Project Serve twice, I had the chance to prepare food hampers at Edmonton's Food Bank and learn about composting, mulching, grasscycling, and soil building through the Compost S'cool program run by the City of Edmonton.
As a nutrition and food science (NUFS) mentor, I helped first and second year NUFS students to make a smooth transition to university life, and to feel supported throughout their time as students in ALES. While I attended the ALES Connect Cafe in 2018 and 2019, I met ALES alumni who were making a difference in the community by producing crops and livestock, developing new food products, creating environmental solutions, and working on sustainability issues. All these experiences helped me meet people and make new friends from different programs and know about the university as a whole.
What advice do you have for current and future students in ALES?
University is more than just academics. I believe that your grade point average (GPA) itself does not truly reflect your talent or knowledge. Your GPA does reflect hard work, dedication, brilliance, but it is not entirely reflective of all qualities.
Volunteering or community involvement show that a person knows how to interact with other groups of individuals in a social or formal setting and that they have the capacity to survive and shine better in a real-life setting. Campus and community involvement show that a person has people skills, such as how to de-escalate situations. They have a refined set of communication skills since they have had many interactions with other people inside and outside the institution.
ALES made both my university experience and international student life very rich, fulfilling and wholesome. So, as a tip, there are a lot of opportunities available on campus and in the community through ALES. Make use of them before you graduate!
How have you spent your free time during the COVID-19 pandemic?
During COVID-19 distancing, I continued volunteering with the Campus Food Bank every two weeks. Being a classically trained dancer in South Asian dance forms, I choreographed and recorded about  five dance pieces during this time. I also enrolled and completed some courses through Coursera, including the Mountains 101 course offered by the U of A. Simultaneously, I worked on my capstone projects for the sustainability and international learning certificates.
How do you plan on celebrating convocation?
I took the entire day off work to celebrate! If COVID-19 travel restrictions were not in place, my family would have been here to attend my convocation in person—but as things are, I will attend the virtual ceremony with my brother, who is here, and my family, who are back home in Bangladesh. I plan to head to campus later that day to take some pictures with my U of A and ALES swag outside campus buildings. I will conclude the day by having dinner at a park with a few of my close friends.
What's next after graduation?
I have been working with the University of Alberta Students' Union (UASU) as their funding and awards specialist since May. In this role, I am actively contributing to a culture of leadership for University of Alberta undergraduate students. I plan on getting a master's degree in public health in the next five years.