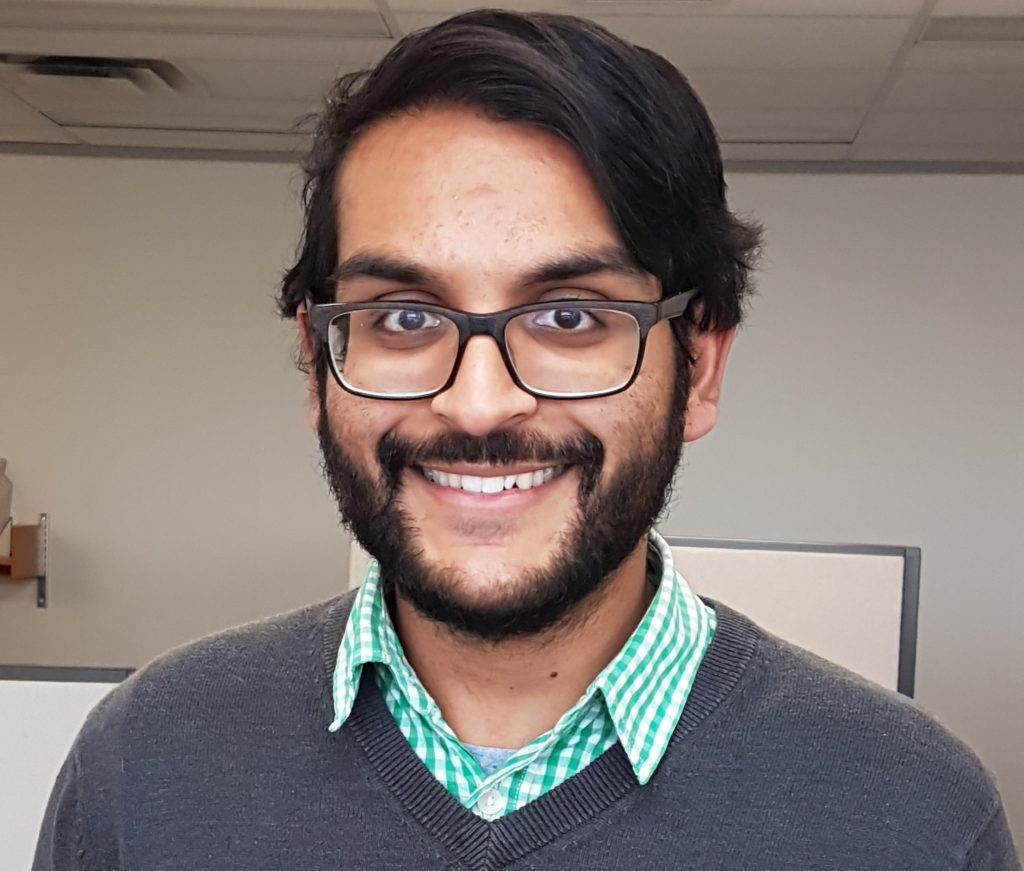 Sonak Patel is passionate about creating meaningful, actionable solutions to our climate crisis. For Sonak, this spark ignited during his undergraduate studies in urban and regional planning, where he had the opportunity to integrate both work and research experiences into his degree. Now, Sonakhopes to effect change in local and regional governments—and to pursue that goal is studying sustainability and renewable energy development with John Parkins, professor and chair in the Department of Resource Economics and Environmental Sociology.
Meet Sonak and hear how he found his academic path in ALES, the importance of getting involved, and advice for incoming students.
---
What brought you to the University of Alberta?
I originally came to the University of Alberta as an undergraduate student, studying urban and regional planning in the Faculty of Science. Over the course of my undergraduate studies, I became passionate and interested in sustainability and environmentalism. I stayed at the U of A for my master's degree to expand my knowledge on sustainable planning and hopefully to effect a change in renewable development in Alberta.
Why did you choose this area of study?
In the last decade, it has become apparent that the climate crisis will have disastrous and irreversible impacts on the world. Especially in the last few years, it has also become apparent that, broadly, climate action efforts are failing to mitigate the worst impacts. I wanted to learn more about how to create and adopt meaningful and impactful climate action efforts.
Tell us about one of our favourite memories from your university experience.
One of my favourite moments was presenting alongside my colleague and friend Andrea Miller at the Future Energy Systems Colloquium in 2019. Iit was one of the first times I presented my research to a big group. I also started volunteering at the campus radio station, CJSR 88.5 FM, with Terra Informa, an environmental news and storytelling show. It's been one of the greatest extracurriculars I have participated in and continue to work on.
Tell us how you incorporated experiential learning into your time at ALES. 
I participated in eight months of work experience through the Science Internship Program during my undergraduate studies, which were in the Faculty of Science. It was definitely a stressful and challenging experience, but I did feel like I learned a lot about planning, project management, and myself. It helped me a lot with the remainder of my undergraduate degree and my final courses. 
I also attended field school at Barrier Lake in Alberta. It was an international and interdisciplinary school and I learned a lot from interacting with people in other disciplines and places. I met some wonderful people, many of whom I am still in touch with.
Near the end of my undergraduate degree, I also had a chance to do eight months of undergraduate research. It was a great exposure to what the academic research process was like. I doubt I would be doing a masters if I hadn't had this experience, especially as I met and worked with the professor that is now my supervisor.
What is one piece of advice you would offer to a new student?
I would recommend branching out, taking courses and having experiences you might not have thought you were interested in. Every course and subject area has value and applicability to your eventual job and life—it's just a matter of being able to form those connections.
Finally, I think it is important to acknowledge that both academia and the professional world are changing to incorporate values and ideas of justice. I think students in every field should consider how ideas of social justice, feminism, racism, and reconciliation intersect with both their work and workspace. Whether  through their career or research, I would advise all students to think about how they can make the most positive impact on the world both in and after their university experience.
What does the future hold for you? What are your long-term goals and aspirations?
I hope that I can find some role in promoting municipal sustainability efforts. Local governments have a huge impact and role to play in climate action. I would like to either return as a planner focusing on environmental strategies or some advocacy role with a different order of government or other association. I also love the work I do on Terra Informa covering environmental news and stories, so I will also look for work with science communication, which I think is critical.