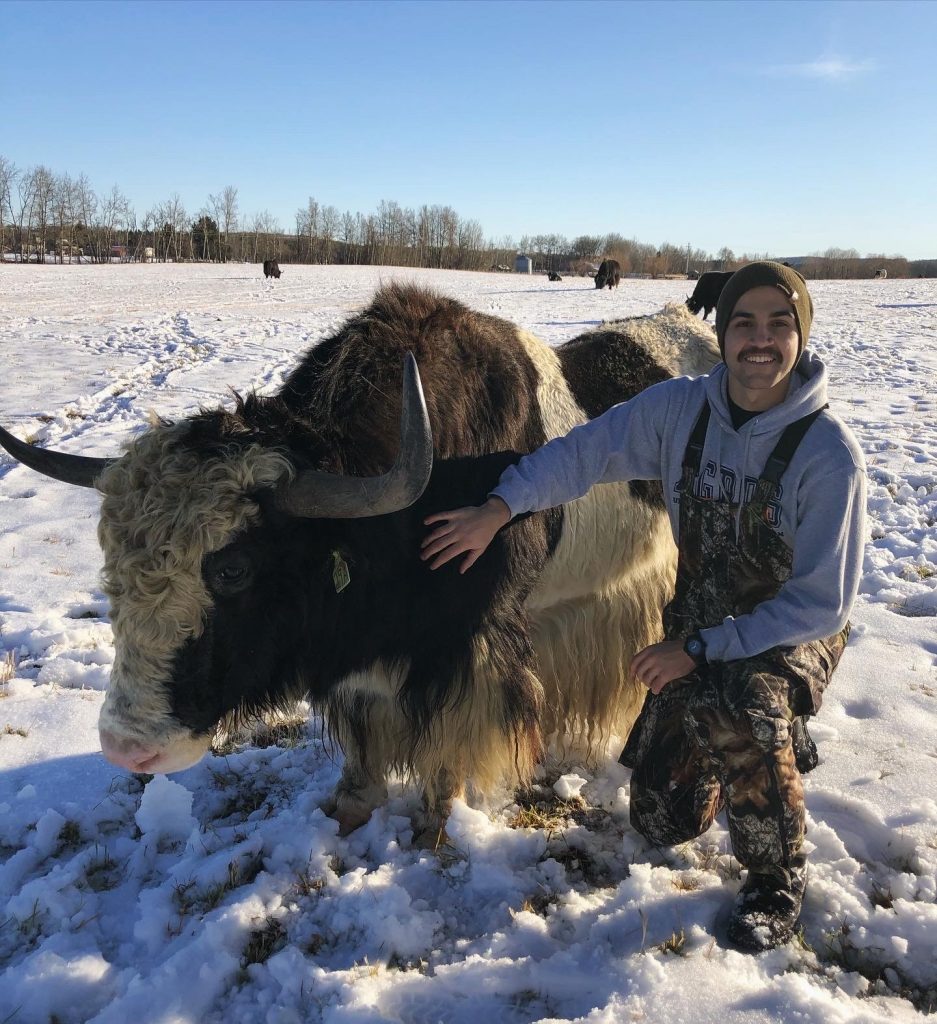 Animal health is a critical component of agriculture, and our Faculty of Agricultural, Life & Environmental Sciences community prides itself on equipping our undergraduate students with the skills they need to succeed in this field and across a range of career options.
For ALES undergraduate student Etienne de Jongh, a love of animals and a family history in agriculture forged a passion for animal health—one that he has turned into hands-on research opportunities through work-integrated learning in the ALES bachelor of science in animal health program.
Meet Etienne and hear from him on how he found his academic path in ALES, how he's taken part in undergraduate research opportunities during his degree, and sharing his advice for new students.
---
What brought you to the University of Alberta?
I actually transferred to the University of Alberta from the University of Saskatchewan. As an Albertan student, I had left to study at the U of S with plans to apply to the veterinary medicine college after my degree. However, after my first year I decided to transfer back to Alberta to be a little closer to family, and the programs offered through ALES made the U of A the clear choice.
Why did you choose this area of study?
My family has been involved in agriculture in South Africa for many years. As a first-generation immigrant, I wanted to bring a little bit of this family tradition into my new life.
I have always had a passion for animals. Growing up I was always surrounded by animals, from backyard chickens to bees to every imaginable indoor pet—it would be hard for anyone not to fall in love. With this childhood passion and my history in agriculture, it was clear to me that I wanted to be a veterinarian. The animal health program here at the U of A not only ensured that I met all of the criteria for veterinary school, but it also provided me with early exposure to hands-on animal work and surrounded me with ambitious, creative, and enthusiastic classmates.
Tell us about one of our favourite memories from your university experience.
I have been blessed with so many incredible memories from my undergraduate career at the U of A. Many, if not most, of these memories stem from my involvement in clubs—most notably the U of A Agriculture Club. The Agriculture Club has provided me with opportunities to network within the Alberta agriculture industry, take part in various philanthropic events, and even help organize Bar None, one of the largest and longest-running student-led events at the U of A.
However, I think my favourite memory with the Agriculture Club was our glorious (albeit brief) championship run in inner tube water polo. The club had teamed up with the Forest Society, and together, we were unstoppable. We had just clutched a spot in the playoffs before our season was cut short by a certain virus. The friendships and memories I took from this historic (to us, at least) season will stay with me for the rest of my life.
Tell us how you incorporated experiential learning into your time at ALES.
The university has so many opportunities for experience outside of the classroom it's difficult to pick and choose just one. The two main ways I took part in these opportunities was through the Mini-Internship program and through undergraduate research. The Mini-Internship program allowed me to work on a yak farm with two other animal health students where we got an unfiltered perspective on niche farming in rural Alberta. The program was really eye opening and incredibly easy to apply for. It also gave me some great pictures (that's Brutus in my picture up there).
As for research, I have had the absolute privilege of working in two incredible labs during my time at the U of A. These two labs—the Human-Environment-Animal Transdisciplinary Antimicrobial Resistance research group and Climate Change and Global Health group—focus on antimicrobial resistance surveillance and climate change and global health respectively. Through these labs, I have been able to take part in important projects with the Intergovernmental Panel on Climate Change, present research at international conferences, and even conduct my own original research project on honey bees.
What is one piece of advice you would offer to a new student?
If I could offer one piece of advice to a new student, it would be to talk to your professors, especially once classes return in-person. I know this sounds cliché, but my journey in research would never have begun if I did not approach one of my second-year professors after class. This one relationship has completely changed my undergraduate journey, and even changed my career plan. Having a supervisor that takes a real interest in your undergraduate journey can be one of the biggest factors of success, both during school and after. Just be honest about your passions and aspirations; you never know where you could fit into a project.
What does the future hold for you? What are your long-term goals and aspirations?
I recently applied to a veterinary medicine program at the University of Calgary. Becoming a veterinarian has been a dream of mine ever since I got my first chicken; however, my experience in undergraduate research has helped me understand the growing need and wide-reaching implications of public health. My desire to explore this area of academia has led me to also apply for a masters program at the School of Public Health here at the U of A. Although I'm unlikely to take both at the same time, I hope to one day be able to combine these fields as a public health veterinarian. My experiences at the U of A have taught me the importance of communication within and between these two fields, and I'm optimistic my foundation in animal health will help me make a real difference.